If you're a penny pincher, you've probably agonized about spending 5 pesos for a box of floor wax. If you have a bit more money to spare for the goal of lustrous floors, a few more pesos could help you afford the pricier liquid variants. Unfortunately, not all of us are rich and some just don't have enough space in the budget to allocate to ensure shiny floors year in and year out. Good thing that a considerable number of people are now resorting to making their own floor wax!
By using left-over candle wax and a bit of gasoline, you can make your own floor wax at minimal cost. All you have to do is heat the candle wax over a fire, add a small amount of gasoline and in no time, you'll be ready to polish your floors with your home-made floorwax.
You can't argue with results! (Read on for actual testimonial and pictures)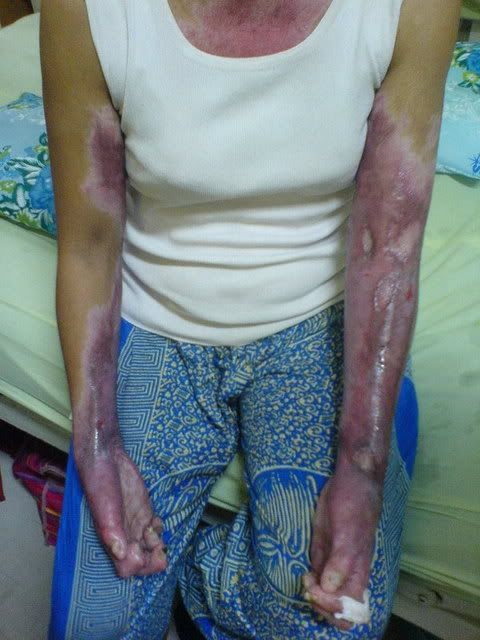 This is Patient MR, a 44 year-old, female, gradevschool teacher from Bicol. She was busy heating and melting wax on about a dozen half gallon containers when the  contents of the pans caught fire. While trying to remove the last container from her electric stove, she accidentally spilled the entire contents of the container unto her self. She burned much of her chest, abdomen, forearms and hands.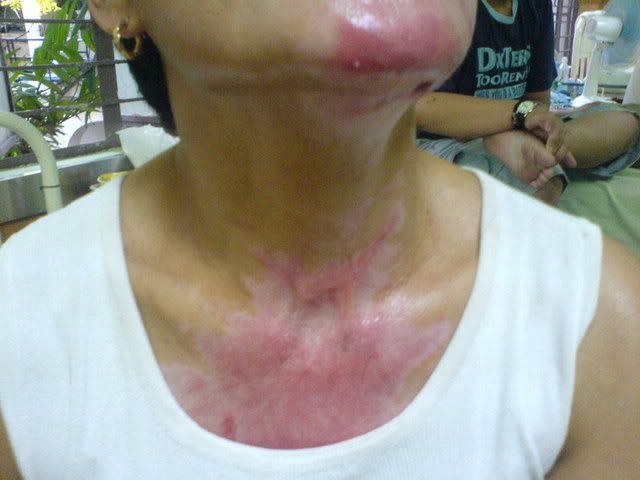 As you can see, even her chin and parts of her neck were also seared by the boiling wax. You may think that the injuries are quite new, right? But here's the deal. The pictures were taken last week. The accident? It was last March!
Yes, that is how a bad burn looks like. Even after months of healing, third degree burns still look like badly scorched surfaces. They hardly feel anything – that's the hallmark of a third degree burn, the burn is so severe that it has caused considerable nerve damage. One can hope to manage these types of burns with multiple skin grafts. Plastic surgeons can harvest skin from other parts of the body, flatten it to increase its surface area and carefully position it on the badly burned parts.
That's not why she's in the hospital right now though.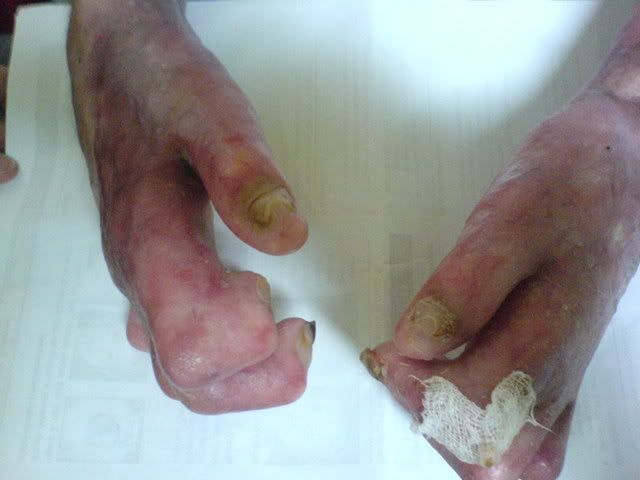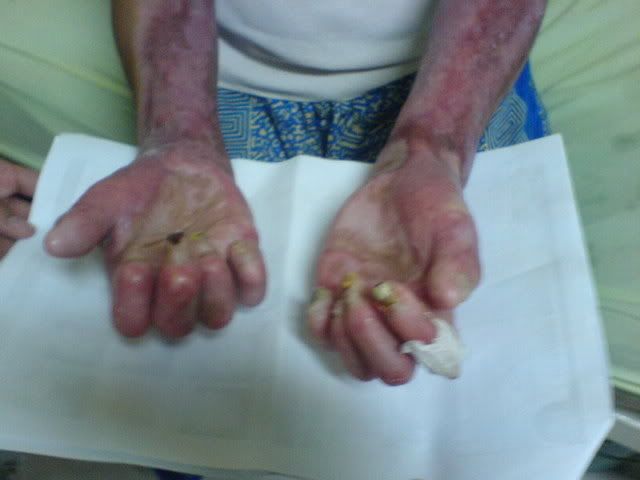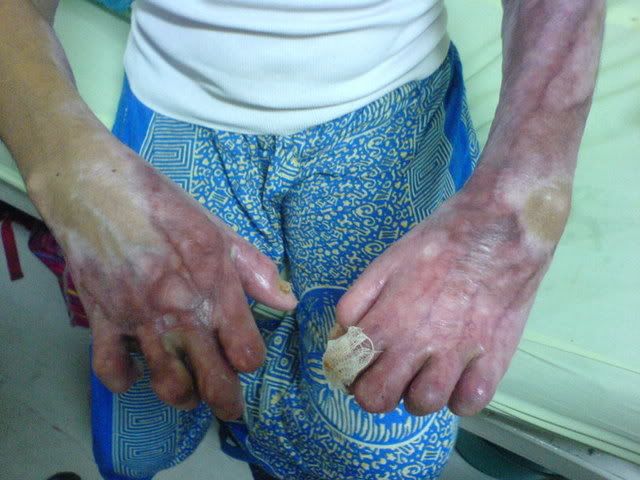 Her fingers are fused and this condition renders her very dependent as far eating, grooming and other activities of day-to-day living. Plastic surgeons are planning to free some of her fingers in a series of operations to help her regain control of her hands.
Bookmark at:
StumbleUpon
|
Digg
|
Del.icio.us
|
Dzone
|
Newsvine
|
Spurl
|
Simpy
|
Furl
|
Reddit
|
Yahoo! MyWeb
Viewed 15205 times by 6559 viewers